Icom IC-F52D VHF Handheld Two-Way Transceiver Radio
Key features of Icom IC-F52D VHF Handheld Two-Way Transceiver Radio
• Frequency coverage: 136-174MHz
• 512 programmable channels, 128 zones
• Output power: 5/4/1W
• LCD with backlight
• Programmable menu items and other functions
• Lone worker and man down function with built-in motion sensor
• Built-in Bluetooth function
• MIL-STD 810 G & IP67
• 1300 mW loud and intelligible internal speaker audio
• Voice recording/playback
• Digital voice scrambler (Low level encryption)
• Not supplied accessories: charger and antenna!

Gross price (including 27% VAT):
599.83€ (Net price: 472.31€)
Special gross price: 164.77€ (Net price: 129.74€)
72,53% discount
Add to Cart
Price Watch
You can ask for e-mail price notifications when the price of this product gets under a limit you specify. To use this feature you need to have a user account and to be signed in.

Further details of Icom IC-F52D VHF Handheld Two-Way Transceiver Radio
The IC-F52/F62 series is a next generation IDAS™ handheld radio. It not only inherits technical design advantages from the IC-F3400D series, but also offers state-of-the-art improvements, while applying size and usability from the hugely popular IC-F50V/IC-F50 series analog models. This series is a true mixture of legacy and modern technology in one of the most compact packages available today.

• Full dot-matrix display, rotary channel and volume knob for simple every-day operation.
• Built-in Bluetooth® , voice recording, active noise cancelling functions.
• Motion/stationary detection, man down and lone worker functions.
• OTAP (Over-the-Air Programming) function easily reconfigures in-the-field radios.
• Intelligent battery management helps to extend the battery life.

General Features:
• 136–174, 350–400, 400–470, 450–512, 450–520 MHz versions
• 512 Channels / 128 Zones
• 14 character dot-matrix display with status icons
• Improved user interface
• Programmable functions and menu items in a language other than English (For example French, Spanish, German, Russian and Turkish)
• Backlit LCD and buttons
• 20-position rotary selector and ON/OFF volume knob
• 800 mW loud and intelligible internal speaker audio
• MIL-STD-810 G shock, vibration, temperature and more
• IP67/66/55/54 waterproof & dust-tight protection
• 29 mm (1.1 inch) slim dimensions (with BP-290 battery pack)
• Battery conditioning intelligence function
• License key upgrade (trunking)

Operating Mode
• NXDN or dPMR mode 1/2 conventional
• NXDN or dPMR multi-site conventional over IP network
• NXDN Type-D single/multi-site trunking* * License key (ISL-UGMTR) required
• dPMR Mode 3 trunking* * License key (ISL-UGMD3) required
• 12.5 kHz digital mode (NXDN conventional)
• Analog mode
• Analog/digital mixed operation

Digital Functions (Voice and Data)
• AMBE+2™ vocoder
• Over-the-Air Programming (OTAP) function* * Optional OTAP manager (CS-OTPM1) required
• Over-the-Air Alias (OAA) sends own name with a call
• Over-the-Air Update (OTAU) changes the repeater channel data and site code over the air (NXDN Type-D trunking)
• Individual, group and all call
• Late entry for group call
• Status call and polling
• Short data messages
• Call alert (NXDN)
• GPS position data (Optional HM-233GP required)
• Transparent data mode

Analog Functions
• CTCSS and DTCS tone
• 2-Tone and 5-Tone
• MDC functions (Depending on version)
• BIIS 1200 (MSK)
• LTR™ trunking (Depending on version)
• DTMF autodial

Security and Safety
• Digital voice scrambler (Low level encryption)
• Analog voice scrambler (Inversion)
• Power ON password
• Tactical group temporarily reconfigures user talkgroups
• Radio stun/revive/kill
• Remote monitor (NXDN)/ambience listening (dPMR)
• Emergency key for emergency call
• Man down function
• Lone worker function
• Motion/stationary detection

Scan Functions
• Priority scan
• Voting scan for site roaming

Voice/Audio Functions
• Voice announcement (Channel number and zone)
• VOX function for hands-free operation
• Voice recording/playback (Up to 8 minutes)
• TX/RX active noise canceller
• TX/RX audio equalizer
• Audio compander (Analog mode)

Hardware Features
• Programmable vibration alert
• Built-in Bluetooth® for wireless audio and data
• Variety of optional audio accessories including speaker-microphones, headsets and earphones
• Optional HM-233GP GPS speaker-microphone
• 14-pin accessory connector
• Wireless radio programming over Bluetooth
• Optional BC-225 intelligent charger and RS-BC225 reader software for BC-225 for battery life cycle management
Icom IC-F52D VHF Handheld Two-Way Transceiver Radio related media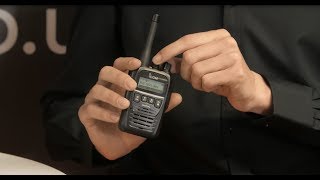 Standard Accessories of Icom IC-F52D VHF Handheld Two-Way Transceiver Radio
Icom BP-290 2010mAh Li-ion Battery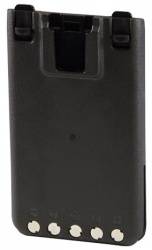 Icom MBB-3 Alligator Type Belt Clip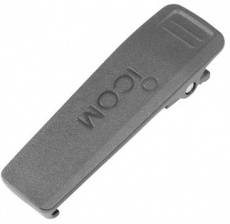 Icom IC-F52D VHF Handheld Two-Way Transceiver Radio related products