Icom IP110H Handheld WIFI IP Transceiver
Key features of Icom IP110H Handheld WIFI IP Transceiver
• Transceiver radio on Wifi network
• Provides instant communication with group members
• IEEE 802.11 a/b/g/n/ac
• WEP (64/128-bit), WPA2-Enterprise, WPA-Enterprise, WPA-PSK, WPA2-PSK network encryption
• 10mW RF output power
• 1000mW audio power with internal speaker
• Individual, group or all member station calling and messaging
• No monthly frequency fee or other charges
• 20 or 100 users on a network, depending on the controller
• Full-duplex communication using headset
• IP1000C network controller required for system operation
• No extra infrastructure costs for existing WiFi coverage
• Built-in Bluetooth functionality with HFP. HSP profile
Gross price (including 27% VAT): 423.94€ (Net price: 333.81€)
Add to Cart
Price Watch
You can ask for e-mail price notifications when the price of this product gets under a limit you specify. To use this feature you need to have a user account and to be signed in.

Further details of Icom IP110H Handheld WIFI IP Transceiver
Other features:
• IP67 dust and waterproof design
• Battery rechargeable via USB-C cable
• Operating time: more than 20 hours (TX 1 : RX 1 : Stand-by 8 load ratio)
• Charging time: 4 hours (BC-257 and BC-228)
• Dimensions: 57 mm (width) x 96.9 mm (height) x 25.1 mm (depth)
• Weight: 146 g
• All, Group, Talkgroup, Individual and Telephone Calls
• 1000 mW loud audio from internal speaker
• Optional Bluetooth headset, VS-3
• Battery can be charged through the USB Type-C cable
• More than 20 hours of operating time (Tx 1: Rx 1: Stand-by 8 duty ratio)
• WPA2, WPA-Enterprise security
• Audio is recorded for instant review
• Vibration alert function
• Motion/Stationary detection, man down and lone worker functions
• Over-the-Air programming
• Compatible with the IP100H WLAN radio
• Related devices

Scalable System Using Wireless LAN Network
Deploying wireless access points over an IP network, the WLAN radio system can expand the communication range.

License-Free Communication
The WLAN radio uses common wireless LAN network frequencies, which do not need communication fees for running the system.

Communication with Dispersed Sites
When connected over the Internet VPN, an WLAN radios can communicate between dispersed sites.

Simultaneous TalkListen Function
The WLAN radio provides full duplex communication like a telephone conversation and one-to-many communication. TalkListen works with or without external headset.
Standard Accessories of Icom IP110H Handheld WIFI IP Transceiver
Icom MBB-1 Aligator Type Belt Clip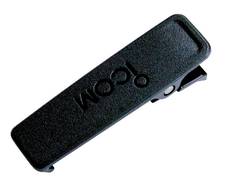 Icom IP110H Handheld WIFI IP Transceiver related products