Icom IC-F29SR2 PMR446 Licence Free Walkie Talkie Radio
• 16 analogue channels (446,00625MHz-446,19375 MHz)
• Professional rugged body and high performance
• Easy to use
• 1500 mW audio output power
• 38 CTCSS group codes (built-in CTCSS and DTCS encoder and decoder)
• 240g weight with battery
• Smart-ring and inversion type voice scrambler
• 21 hours operation
• Confirms with IP67 standard (dust-tight and waterproof)
• Equivalent to MIL-STD 810 G requirements
TEMPORARILY NOT AVAILABLE, PLEASE CHOOSE IC-F27SR RADIO.

Gross price (including 27% VAT): 143.17€ (Net price: 112.73€)
Add to Cart
Price Watch
You can ask for e-mail price notifications when the price of this product gets under a limit you specify. To use this feature you need to have a user account and to be signed in.

More details:
• The radio has the same housing as the IC-F1000 / IC-F2000 professional radio. The aluminium chassis and the policarbonate plastic case guarantee the high durability.
• Up to 21 hours of operating time with the supplied BP-279 1450mAh lithium-ion battery pack due to the highly efficient circuitry. This means it can be comfortably last an entire shift. (Tx: 5%; Rx:5%; Stand by:90% with power save on)
• Programmable channel selector with 16 different channels with CTCSS and DTCS tones. (Ask our help to preprogramm the radio.)
• The large 36mm speaker of the radio provides clear companded 1500 mW* audio to a radio operator working in noisy environments.
• This simple to use radio is ideal for high turnover environments and shift work where the radio is constantly passed from person to person. Additional 3 programmable function buttons are on the side of the radio.
• Small size (52,2×186,1×24.5mm) and lightweight (240g) makes this transceiver ideal for all users.
• LED display for function feedback
• Time-out-timer (TOT): The time-out timer limits continuous transmission time period to prevent accidental prolonged transmission
• The Call-Ring function can be used to call receivers with a ringer tone. Ten different ring patterns can be selected.
• The Smart-Ring function checks whether the receiver is in communication range with a ringer sound.
• The built-in inversion voice scrambler provides private conversation. Up to 16 codes are selectable.
• Microphone gain level adjustment
• Key lock function
• Power on scan function
• Monitoring function
• Siren function for emergency
• Surveillance function (The radio turns of LED light and beep sound)
• 500mW RF output power
• Internal VOX for hands-free operation (optional headsets are available)
• Electronic serial number
Standard Accessories
Icom BP-279 1570mAh Li-ion Battery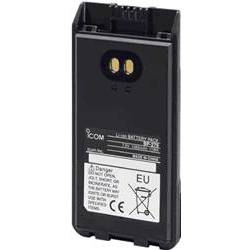 Icom BC-213 Complete Desktop Charger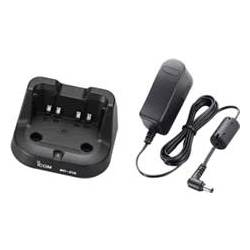 Icom MB-133 Alligator Type Belt Clip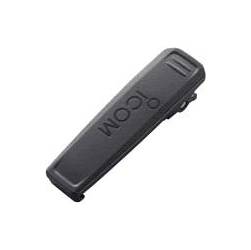 RELATED PRODUCTS
RELATED PRODUCTS (discontinued product)