Icom IC-A210E Airband Mobile Radio
• VHF airband radio
• Maximum 6W RF output power (carrier power)
• Large, bright OLED display
• Easy channel selection
• Slim type construction design
• Side tone function
• Intercom function
• 200 programmable memory channels
• 8.33kHz / 25kHz dual channel spacing
• Equivalent to MIL-STD 810 C, D, E, and F requirements
• The radio doesn't have TSO certification!

Gross price (including 27% VAT): 1,172.73€ (Net price: 923.41€)
Add to Cart
Price Watch
You can ask for e-mail price notifications when the price of this product gets under a limit you specify. To use this feature you need to have a user account and to be signed in.
More details:
• Works on a 12V DC, as well as a 24V DC power source
• The ICA210E has an organic light emitting diode (OLED) display. The OLED display emits light by itself and the display offers many advantages in brightness, vividness, high contrast, wide viewing angle and response time compared to a conventional display. In addition, the auto dimmer function adjusts the display for optimum brightness at day or night.
• The radio doesn't have internal speaker and hand microphone as standard accessory, however the optional MB-53 mounting kit and PS-80 power supply have both.
• The IC-A210E compactly measures 160(W) x 34(H) x 271(D) mm thus making it ideal for mounting in a broad range of vehicles.
• It's fast and easy to select any of memory channels in the IC-A210E. The "flip-flop" arrow button switches between main and stand-by channels. The dualwatch function allows you to monitor two channels simultaneously.
• The auto stack memory stores the last 10 channels used and allows you to recall those channels easily.
• 10 regular memory channels with a 6-character channel name
• 200 group memory channels (20 Channel banks) with a channel tag
• 6W typ. (carrier power) output power
• When connected to an external GPS receiver equipped with an airport frequency database, the frequency data such as nearby airports can be transferred and made available in the IC-A210E.
• The IC-A210E has a built-in voice activated intercom function allowing the pilot to talk with the copilot via the headset. The ICA210E has adjustable audio level and squelch control functions.
• One touch access to 121.5MHz emergency frequency
• The side tone function allows you to hear your own voice via a headset. By monitoring your own voice, this function eliminates unnecessary shouting on a noisy runway. Side tone level is adjustable from the radio.
• Remote control capability
• Priority scan, dual scan are available
• Time-out-timer (TOT) function
• PC programming capability (optional software and programming cable are needed)
• Dial lock and panel lock
• Squelch test function
• Equivalent to MIL-STD 810 C, D, E, and F requirements
Standard Accessories
Mounting Bracket
RELATED PRODUCTS
Sirio GPA 108-136 VHF Base Antenna
Sirio GP 108-136 LB/N VHF Base Antenna
Icom CS-A210 Programming Software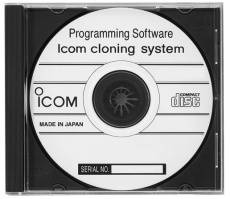 Icom OPC-1529R Cloning Cable
Icom MB-53 Mounting Bracket
RELATED PRODUCTS (discontinued product)
Icom PS-80 Base Station Power Supply (discontinued)
This product is not available.
Possible reasons that the product is not available from the manufacturer anymore or we decided to remove it from our product portfolio. We gladly help you to find the best optional product instead of this type, please contact us.