Dometic HUB 2 Pavilion
Key features of Dometic HUB 2 Pavilion
• Dimensions: 2.3 m (width) x 2.3 m (height) x 2.3 m (depth) x 8.94 kg
• Made from brand new, recycled plastic bottles, our environmentally conscious polyester is high performance and extremely reliable
• WEATHERSHIELD™ REDUCTION: waterproof, lightweight and environmentally friendly
• QUICKPITCH™ BACKING SYSTEM allows you to set up in seconds
• Highly protected, durable and single-point inflation Air Frame technology
• Attachable base plate provides comfort and protection
• The picture and the price refers to article number 9120001968

Gross price (including 27% VAT): 682.45€ (Net price: 537.37€)
Add to Cart
Price Watch
You can ask for e-mail price notifications when the price of this product gets under a limit you specify. To use this feature you need to have a user account and to be signed in.

Further details of Dometic HUB 2 Pavilion
• WEATHERSHIELD™ REDUX
Waterproof, lightweight, and environmentally responsible. This material is woven from recycled plastic bottle yarn, providing reliable protection from the elements without compromise.

• QUICKPITCH™ KNITTING SYSTEM
Sets up in seconds. Tightly tie the bottom cord, then adjust the tension with the buckle.

• ONE-POINT INFLATION
One-point inflatable canopies can be set up using a single external inflation valve.

• REMOVABLE GROUND COVER
Made from recycled plastic bottles, the HUB 2 attachable groundsheet provides comfort and protection in wet or rough terrain.

• THE FOCAL POINT OF SOCIAL LIFE
Designed to be social, the Dometic HUB is the new hub of outdoor life. Whether you're relaxing on the beach, hiking with friends, or just need a quick and convenient shelter in the garden or park - the Dometic HUB has you covered. So bring the company together to share the experience.

• STAY OUTDOORS EVEN LONGER
This quick and efficient covered gazebo ensures you can keep doing what you love when the sun goes down, the wind comes up or the sky falls. The HUB gives you the freedom to indulge in the joy of moments with family or friends with complete confidence in your comfort.

• ENJOY SPONTANEITY
Enjoy spontaneity, camp down and get up close and personal with nature. The HUB can be used in any environment; its unique features, durable fabrics and clever design allow you to easily move from one great outdoor location to another - ensuring you're the first to hit the trail at sunrise.
Dometic HUB 2 Pavilion related products
Dometic HUB 2 Sleeping Inner Tent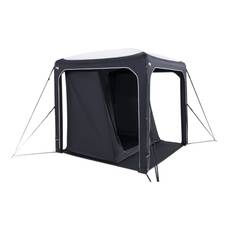 Dometic HUB 2 Mesh Panel for Inflatable Modular Pavilion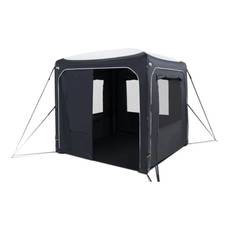 Dometic Gale Electric Pump 12V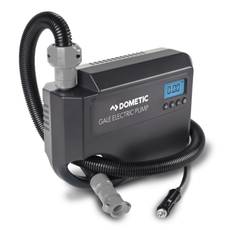 Dometic Gale Electric Pump Carry Bag