Motorola MotoTRBO DP1400 UHF Two-Way Analogue Handheld Radio (Bulk)
Key features of Motorola MotoTRBO DP1400 UHF Two-Way Analogue Handheld Radio (Bulk)
• Frequency coverage: 403-470MHz
• 16 programmable channels (with R2.10.5 firmware the radio is able to handle 32 channels)
• 2 programmable option buttons
• Aluminium chassis and policarbonate plastic case
• Built-in CTCSS, DTCS coder and encoder, DTMF autodial
• Maximum 4W RF output power
• Confirms with IP54 standard (dust-protection and water resistant)
• Equivalent to MIL-STD 810 C, D, E, F and G requirements
• Analogue radio which can be upgraded to digital mode with licence key
• The radio can be ordered with out charger, but the price of this article contains this!
• The price includes 2900mAh Li-ion battery!
• This article number includes bulk pack. The product and accessories were packed in bulk but packed individually. The carton box isn't part of the packaging.
Gross price (including 27% VAT): 390.31€ (Net price: 307.33€)
Add to Cart
Price Watch
You can ask for e-mail price notifications when the price of this product gets under a limit you specify. To use this feature you need to have a user account and to be signed in.


Further details of Motorola MotoTRBO DP1400 UHF Two-Way Analogue Handheld Radio (Bulk)
• The operating time reaches up to 14.5 hours in analogue mode and 18.5 hours in digital with the supplied PMNN4258AR 2900mAh Li-ion battery. (Tx: 5%; Rx:5%; Stand by:90%)
• The DP series radios have aluminium chassis and policarbonate plastic case which guarantee high durability even in harsh environment. The new battery holding provides more secure fixation.
• Easy to use due to the three main control buttons only. Tough and textured transmit button, chunky rotary channel and volume knobs.
• Additional 2 programmable function buttons can be set to give immediate access to the most often used features making communication even simplier.
• The tricolour LED lamp provides feedback for the user about the operation. (starting transmission, channel selection, etc.)
• Maximum 16 channels can be programmed into radio.
• Built-in CTCSS, DTCS coder/encoder and DTMF autodial.
• Channel spacing: 12.5/20/25Khz; PLL channel step: 2.5, 3.125Khz (VHF); 5, 6.25Khz (UHF)
• Automatic power save function
• Sound and light (LED) indication in case of low battery alert
• Shows the battery level for programmed button
• Adjustable squelch level
• Adjustable RF output power (1 / 4 W)
• Digital Emergency via programmable button to help ensure rapid response to critical incidents
• PTT ID helps improve communications efficiency and system discipline
• Elegant channel scanning schemes help ensure calls are received first time every time
• Integrated VOX function for hands-free operation which can be set by predefined programmable button
• When the Lone Worker function is turned ON, and no operation is performed for the specified time period*, the transceiver enters the emergency mode, and then the countdown for the emergency call transmission starts. After the specified time period* has passed, an emergency call is automatically transmitted once, or repeatedly*. (*Depending on the presetting.)
• Voice announcement of channel change and feature activation
• Programmable Text Messaging Capability
• Time-out-timer (TOT): The time-out timer limits continuous transmission time period to prevent accidental prolonged transmission.
• 500mW audio output power
• The digital AGC (Automatic Gain Control) intelligently change the microphone gain to boost the volume
• Excellent audio quality due to the built-in digital noise-cancelling software
• Equivalent to MIL-STD 810 C, D, E, F and G requirements
• Electronic serial number
• Basic analogue inversion type encryption

This article refers to a basically analogue mode radio. With the optional licene key the digital mode can be activated and all of its extra feautres. Functions with the optional software licences:
• Analogue to digital upgarde software licence key (HKVN4204A Analogue to Digital Upgrade Software - Licence Key)
Additional extra feautres in digital mode:
• Basic privacy (only in digital mode!)
• Transmit interrupt - decode only (only in digital mode!)
• DMR (Digital Mobile Radio) standards compliant (only in digital mode!)
• Longer operating time due to less battery drain, extended area coverage, double channel capacity in the same spectrum
Motorola MotoTRBO DP1400 UHF Two-Way Analogue Handheld Radio (Bulk) related media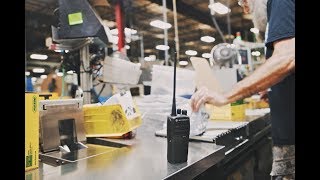 ▶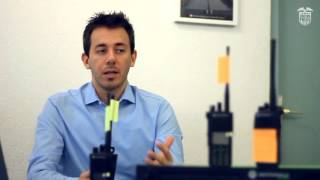 ▶
Standard Accessories of Motorola MotoTRBO DP1400 UHF Two-Way Analogue Handheld Radio (Bulk)
Motorola MotoTRBO DP1400 UHF Two-Way Analogue Handheld Radio (Bulk) related products
Motorola MotoTRBO DP1400 UHF Two-Way Analogue Handheld Radio (Bulk) related discontinued products