Motorola GMLN5551A Wave PTX Dispatch Console 1 Year Subscription
Key features of Motorola GMLN5551A Wave PTX Dispatch Console 1 Year Subscription
• This article number includes 1 year PTX dispatch console subscription (GMLN5551A) for the Wave TLK 100 handheld and TLK 150 mobile PoC radio
• Key Features:
- Monitor multiple talkgroups
- Group & individual calls
- Broadcast call
- Supervisory override
- Logging and recording
- Message threads
- Text, video, photo, and file sharing
- Location & mapping
- Geofencing
- In-map communication

Gross price (including 27% VAT): 689.56€ (Net price: 542.96€)
Add to Cart
Price Watch
You can ask for e-mail price notifications when the price of this product gets under a limit you specify. To use this feature you need to have a user account and to be signed in.

Further details of Motorola GMLN5551A Wave PTX Dispatch Console 1 Year Subscription
• CENTRALISED COMMUNICATIONS ANYWHERE
Simplify day-to-day operations with WAVE PTX Dispatch. Log in from any internet connection and get access to all the communication tools you need to manage your resources and coordinate an effective operation. Regardless of location, with WAVE PTX Dispatch you're just a click away.
• SETUP OPERATIONS ANYWHERE WAVE PTX Dispatch is managed on-line using your browser, freeing you from maintenance and manual software updates. Securely sign into WAVE PTX Dispatch from anywhere with an internet connection and a standard web browser.
• COMMUNICATE IN AN INSTANT Keep in touch with your teams and field personnel wherever they are with WAVE PTX push-to-talk. Monitor communication traffic and instantly connect with groups and individuals at the touch of a button.
• SHARE THE DETAILS When the details are important, ensure your team has all the information they need. With integrated messaging you can send text, photos, video and files to groups and individuals in a familiar message thread format. See the location of your team, search for an address or point of interest and improve coordination and planning.

• Voice Dispatching, Monitor up to 20 talkgroups:
- One-to-one, group and broadcast PTT
- Presence (Available, Do Not Disturb, Offline)
- Talkgroup scanning with priority
- Voice message fall back
- Call logging and recording
- Supervisory override
- Alerts
• Integrated Messaging, Exchange multimedia information:
- Text
- Photos (GIF, JPEG, PNG)
- Videos (MPEG-4)
- Audio files (AAC, MP3)
- Documents (PDF)
- Location data

• Location and Mapping Locate and see members on a map:
- See users on a map
- Selectable map views
- Automatic and on demand location updates
- Find an address or point of interest
- Location history and replay
- In-map communication
- Geofencing

Motorola GMLN5551A Wave PTX Dispatch Console 1 Year Subscription related media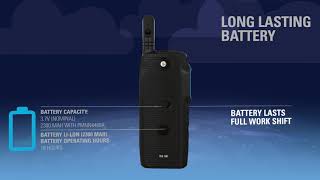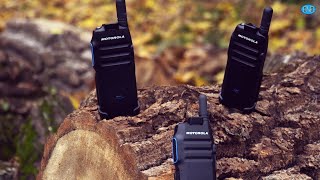 Motorola GMLN5551A Wave PTX Dispatch Console 1 Year Subscription related products