Icom IC-M23 Handheld Marine Radio (discontinued)
Key features of Icom IC-M23 Handheld Marine Radio
• VHF marine channels
• Maximum 5W RF output power
• ATIS channels and code sending
• The smallest and lightest 5W buoyant VHF marine transceiver*
• AquaQuake draining function
• Float'n flash
• IPX7 waterproof protection
This product is not available.
Possible reasons that the product is not available from the manufacturer anymore or we decided to remove it from our product portfolio. We gladly help you to find the best optional product instead of this type, please contact us.
Further details of Icom IC-M23 Handheld Marine Radio
The IC-M23 buoyant VHF Marine Handheld Transceiver measures just under 13cm in height and is the smallest and lightest buoyant handheld in the market*. Even with its incredible size, the IC-M23 can match the audio and battery performance of other comparable models on the market. What's more, the IC-M23 sports a bright red LED which flashes if dropped in water, even if the radio is turned off making it easy to find, day or night.
• The smallest and lightest 5W buoyant VHF marine transceiver in the world (as of December 2010, researched by Icom)
• Up to 10 hours of operating time with the supplied 1590mAh lithium-ion battery pack due to the highly efficient circuitry. (Tx: 5%; Rx:5%; Stand by:90%)
• With the supplied standard battery the transceiver floats in the water
• An important safety feature of the buoyant IC-M23 is that it has a bright internal red LED which automatically starts flashing on three sides of the base of the radio when it comes into contact with water. This function will be especially useful if the radio is dropped in the water in low light conditions or even at night.
• The AquaQuake Water Draining function removes water from the speaker grill. Without this function, water may muffle the sound coming from the speaker. The transceiver makes a vibrating sound when this function is activated.
• Easy to see LCD with large channel indication. While the IC-M23 has a smaller and lighter body compared to the IC-M35, the IC-M23 keeps the same easy to see large LCD (32x16 mm). The large LCD has a clear 2-digit channel number indication. LCD and key backlighting are built-in for night time operation.
• Easy to use due to the 9 buttons on the front panel and one PTT button on the side.
• Tag scan function and favourite channel function allows you to scan only tagged channels, while skipping untagged channels. The "Fav" (favourite) button allows quick channel selection by recalling the tagged channels in rotation.
• Dual/Tri-watch functions
• 4-step battery life indicator
• 2-step power save function
• Programmable channels
• Automatic scan function
• Instant access to Ch 16 and a programmable call channel
• DC power jack is protected with a water-tight plastic cap to prevent water intrusion
• Waterproof construction equivalent to IPX7 (1m depth for 30 minutes)
Icom IC-M23 Handheld Marine Radio related media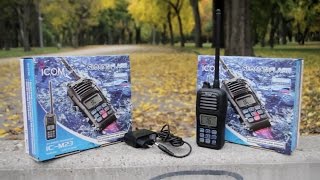 Standard Accessories of Icom IC-M23 Handheld Marine Radio
Icom BP-266 1590mAh Li-ion Battery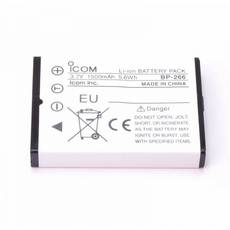 Icom BC-199SE AC Wall Adapter (230V)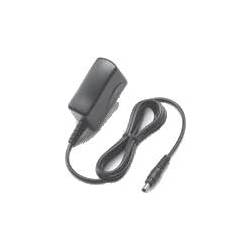 Icom FA-SC58V VHF Antenna 156.000-161.450 Mhz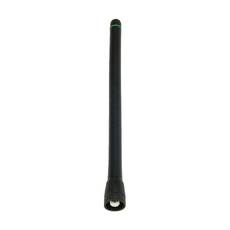 -30%
Icom MB-124 Alligator Type Belt Clip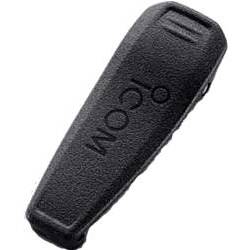 Hand Strap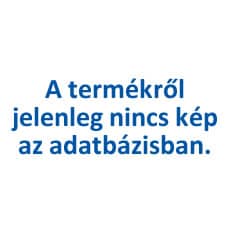 Icom IC-M23 Handheld Marine Radio related products
Icom IC-M23 Handheld Marine Radio related discontinued products