3M Peltor ProTac III Slim Cups, Black Headset with Helmet Attachment
Key features of 3M Peltor ProTac III Slim Cups, Black Headset with Helmet Attachment
• Attenuation Rating SNR: 21 dB
• Helmet Mounted version
• Slim Cup Size
• Communication Direction: Listen-only
• Hearing protector helps protect against harmful noise, whilst allowing ambient sounds to be heard
• Built-in level-dependent function allows the wearer to hear ambient sounds, such as conversations, machine sounds and warning signals
• 3.5 mm stereo jack to connect to your mobile phone or two-way radio to hear the call right in your ear
• Battery Life: 100 Hours
• Auto power off turns headset off after 4 hours of non-use
• To save energy and a low-battery warning informs you when to change batteries

Gross price (including 27% VAT): 112.17€ (Net price: 88.32€)
Add to Cart
Price Watch
You can ask for e-mail price notifications when the price of this product gets under a limit you specify. To use this feature you need to have a user account and to be signed in.

Further details of 3M Peltor ProTac III Slim Cups, Black Headset with Helmet Attachment
• Voice guided menu system so no need to take your headset off
• To reduce the corrosion caused by sweat the electronics are located in the outer part of the cup

3M PELTOR ProTac III Headset with level-dependent function for ambient listening helps you focus on your work and communicate with colleagues in noisy environments, without removing the hearing protection. Stereo feedback will allow you to hear and better determine direction of alarms, warning cries, backing vehicles and so on. Headset unit has a rugged design with dual shells. The electronics are protected from moisture and sweat, from both the inside and the outside. Smart technology, practical design and user friendly functions will help you weather rough days in the field.

Protect your hearing whilst being able to hear ambient sounds with the 3M PELTOR ProTac Headsets. The headset helps protect against harmful noise, whilst allowing ambient sounds to be heard at a level below 82dB. The headset can be used for work in industrial areas, construction sites, rail work and other areas where you need to be able to hear sounds in your surroundings.

The picture and the price refers to model MT13H220P3E.
3M Peltor ProTac III Slim Cups, Black Headset with Helmet Attachment related products
3M Peltor HY100A Ear Muff Cleaning Pads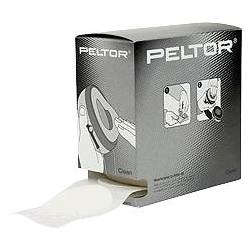 3M Peltor FL6CE/1 Cable with Stereo 3.5mm Plug