3M Peltor LiteCom Plus Helmet Mounted Hearing Protector With PMR Radio
Key features of 3M Peltor LiteCom Plus Helmet Mounted Hearing Protector With PMR Radio
• LiteCom Plus is based on a robust basic design with a number of added features. This is a headset that is designed for demanding use on a daily basis.
• A built-in communication radio allows two-way conversation on up to 69 channels, 121 subchannels, and has a range of up to 3,000 meters.
• Fully integrated headset without any exposed cords.
• Lets you talk hands-free and work safely regardless of harmful noise levels
• Active level-dependent filtering of ambient sound ensures you are not isolated from your immediate surroundings, but can still hear alarms, unexpected sounds and calls for help.
• Attenuation (SNR): 34dB

Gross price (including 27% VAT): 1,006.59€ (Net price: 792.59€)
Add to Cart
Price Watch
You can ask for e-mail price notifications when the price of this product gets under a limit you specify. To use this feature you need to have a user account and to be signed in.

Further details of 3M Peltor LiteCom Plus Helmet Mounted Hearing Protector With PMR Radio
The picture and the price refers to MT7H7P3E4410-EU type.

In the box:
•LiteCom Plus
•Battery ACK081
•Power supply FR08
•Cable AL2AI
•Hygiene kit HY79
•Microphone protector, 100 cm HYM1000-10
•User instruction
3M Peltor LiteCom Plus Helmet Mounted Hearing Protector With PMR Radio related media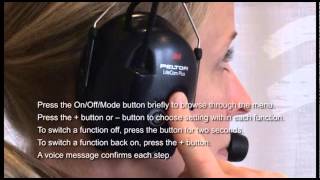 3M Peltor LiteCom Plus Helmet Mounted Hearing Protector With PMR Radio related products