3M Peltor ComTac XP Electronic Level Dependent Headset (discontinued)
Key features of 3M Peltor ComTac XP Electronic Level Dependent Headset
• The ComTac™ XP head protector meets the toughest military demands for durability and function. The headset is also equipped with the world's most advanced tactical function, with features such as an equalizer, so the user can concentrate fully on the task at hand
• Thin, high-attenuating shell (SNR 28)
• Tested to IP 68 and military specifications
• Watertight microphones
• Weight: 295g
• Attenuation rating (SNR): 28dB

This product is not available.
Possible reasons that the product is not available from the manufacturer anymore or we decided to remove it from our product portfolio. We gladly help you to find the best optional product instead of this type, please contact us.
Further details of 3M Peltor ComTac XP Electronic Level Dependent Headset
• Level dependent function with new settings options:
• Plug Mode – increase the volume when wearing the headset in combination with earplugs in extremely noisy environments
• Balance Mode – adjust the balance between the left and right earphone
• EQ Mode – adjust and cut out high or low frequencies
• Release Time Mode – change the length of time before the Tactical function is reactivated
• Headband of high-quality steel with a leather shell
• Kevlar-encased cords
• Battery life span about 500 hrs
• Available in collapsible headband version
• The picture and the price refer to MT17H682FB-02 type.
3M Peltor ComTac XP Electronic Level Dependent Headset related media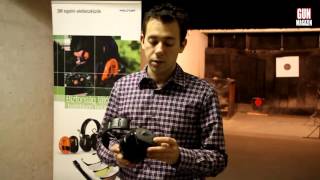 ▶
3M Peltor ComTac XP Electronic Level Dependent Headset related products
3M Peltor HY100A Ear Muff Cleaning Pads