Icom IC-705 Base Station Amateur Transceiver Radio
Key features of Icom IC-705 Base Station Amateur Transceiver Radio
• All mode transceiver: HF/50/144/440 MHz
• D-STAR DV, SSB, CW, RTTY, AM és FM modes
• Output power: 10W
• Compact and lightweight design (LC-192 backpack as optional solution for carrying)
• Large touch screen color display
• Supplied accessories: DC power cable (OPC-2421), BP-272 battery(2000mAh), HM-243 microphone
• built in GPS antenna
• built in Bluetooth and WLAN
• microSD card slot
• optional antenna (not supplied accessorie): AL-705

Gross price (including 27% VAT): 1,554.01€ (Net price: 1,223.63€)
Add to Cart
Price Watch
You can ask for e-mail price notifications when the price of this product gets under a limit you specify. To use this feature you need to have a user account and to be signed in.
Further details of Icom IC-705 Base Station Amateur Transceiver Radio
• HF/50/144/440 MHz All Mode: from HF to 50/144/440 MHz, you can enjoy a variety of bands in D-STAR DV, SSB, CW, RTTY, AM and FM modes. The IC-705 receives continuously from the medium wave broadcast band to 144 MHz band. You can also enjoy FM broadcast and air band reception.
• RF Direct Sampling System: the IC-705 uses the RF direct sampling method* matured in the IC-7300, IC-7610, and IC-9700. This method greatly reduces distortion. The high speed /high resolution real-time spectrum scope and waterfall display are incorporated in a compact design for the rst time in this class. * Down-conversion IF sampling method for 25 MHz and above
• Real-Time Spectrum Scope and Waterfall Display: the IC-705 inherits the performance and functions of the highly-acclaimed IC-7300 and IC-9700 scopes. You can visually gure out the band condition and check clear frequencies. It takes you to the next level beyond traditional eld operation.
• Large Touch Screen Color Display: the large 4.3 inch touch screen color display is the same size as the one used in the IC-7300 and IC-9700. It dramatically improves visibility and operability in the fields.
•Compact and Lightweight Design: "Base station radio" performance and functions are packaged in a compact size of approximately 20 cm, 7.9 in (W) × 8 cm, 3.1in (H) × 8.5 cm, 3.3 in (D). The weight is approximately 1 kg (excluding battery pack and antenna). Its compact and lightweight design enables you to hold it with one hand.
•BP-272 Battery Pack or 13.8 V DC External Power Supply: BP-272 Battery Pack or 13.8 V DC External Power Supply
• Max. Output Power 10 W (13.8 V DC), 5 W (BP-272) Supports QRP/QRPp Operations: despite being a portable radio, it achieves the maximum output power of 10 W with a 13.8 V DC external power supply. When the standard BP-272 Li-ion battery pack is used, operation at the maximum output power of 5 W is possible. True 5 watt QRP as well as 0.5 watt QRPp are supported.
• Bluetooth® and Wireless LAN: Bluetooth® and wireless LAN are built-in. They can be used for smartphone linking and remote control, and also for Bluetooth® headsets.
• GPS Antenna and GPS Logger: a high-performance GPS antenna is incorporated. In the D-STAR DV mode, you can send and receive location information while communicating. This high-performance GPS enables various functions such as GPS log function and repeater search function.
•microSD Card Slot: the IC-705 is equipped with a microSD card* slot that can be used for rmware upgrades, programming and so on, as well as voice recordings and saving GPS log data. * microSD card is not supplied
• Full Equipped D-STAR Functions: the IC-705 is fully equipped with functions to enjoy D-STAR comfortably, such as the DR function and Terminal Mode/Access Point Mode. In addition, you can send/receive and view saved photos using only the IC-705 without any application software
• SP-Mic Come Standard: speaker-microphone come standard. The speaker-microphone is equipped with programmable buttons assignable to various functions, such as frequency adjustment and volume control.
• Optional Backpack, LC-192, Ideal for Field Operations: the IC-705 ts perfectly in the optional dedicated LC-192 multi-function backpack. It has various functions, such as holes for the antenna and holes for passing through coaxial cable and microphone cable. You can easily operate the IC-705 with it in the backpack.
Icom IC-705 Base Station Amateur Transceiver Radio related media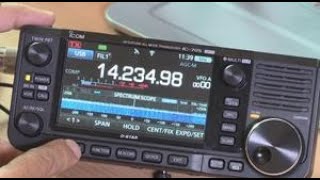 Standard Accessories of Icom IC-705 Base Station Amateur Transceiver Radio
Icom BP-272 2000mAh Li-ion Battery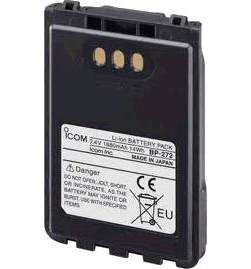 Icom OPC-2421 DC Power Cable for IC-705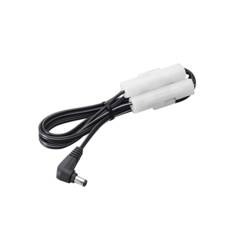 Icom HM-243 Speaker Microphone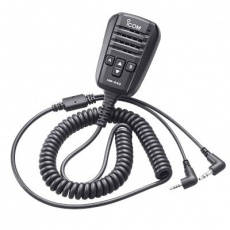 Icom IC-705 Base Station Amateur Transceiver Radio related products