Icom UR-FR6100 UHF Analogue/Digital Repeater (Channel module only)
• Frequency coverage: 400-470MHz
• 32 programmable channels
• Internal space for installing an additional RF unit
• Integrated IDAS digital system (NXDN or dPMR)
• Built-in SEL 2/5, CTCSS, DTCS coder and encoder, DTMF autodial
• Maximum 25W RF output power
• Remote DTMF control
• Optional IP network panel / trunk panel
Gross price (including 27% VAT): 1,079.57€ (Net price: 850.05€)
Add to Cart
Price Watch
You can ask for e-mail price notifications when the price of this product gets under a limit you specify. To use this feature you need to have a user account and to be signed in.
More details:
• 25W RF output 100% duty cycle operation
• 12 character dot-matrix LCD display
• 32 channel capacity. Each memory channel stores a 12-character channel name, digital/analogue channel spacing, repeater/base operation etc, as well as frequency setting.
• The 5 programmable buttons allow you to use the repeater as a base station
• D-SUB 25-pin accessory connector. The repeater has a D-SUB 25-pin accessory connector for connecting external devices. An operating channel can be controlled by the input signal from the D-SUB 25-pin connector. *Analogue mode only.
• Superior receiver performance
• The IC-FR5100 series has a built-in inversion type* voice scrambler. The optional UT-109R/UT-110R* is available, when a more secure voice scrambler system is required. * The inversion type voice scrambler and UT-109R/UT-110R voice scrambler is for analogue mode only.
• Built-in audio compander
• Channel spacing: 12.5/20/25Khz; PLL channel step: 2.5, 3.125Khz (VHF); 5, 6.25Khz (UHF)
• Normal and priority scan
• IDAS digital mode
• Flexible migration path from analog to digital
• Optional UC-FR5000 board offers the following services: remote access and progam via TCP/IP network, connecto multiple repeaters via network (even on the Internet), trunking functions, etc.
RELATED PRODUCTS
Icom CS-FR5000 Programming Software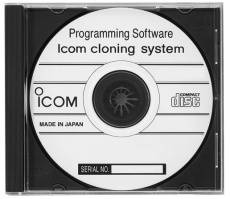 Icom OPC-1122UC Cloning Cable
Icom RC-FS10 Remote Communicator
Icom IC-FR5100 VHF Analogue/Digital Repeater
Icom IC-FR6100 UHF Analogue/Digital Repeater
Icom UR-PA6000 UHF RF Power Amplifier
Icom UC-FR5000 IDAS Trunking/Network Controller Board (#1 single site trunk)
Icom UC-FR5000 IDAS Trunking/Network Controller Board (#2 IP multi-site)
Icom UC-FR5000 IDAS Trunking/Network Controller Board (#3 IP multi-site trunk)
Icom CT-23 PTT Microphone Adapter
Icom OPC-2274 Connection Cable
Icom OPC-2390 Connection Cable
RELATED PRODUCTS (discontinued product)
Icom OPC-1122 Cloning Cable (discontinued)
This product is not available.
Possible reasons that the product is not available from the manufacturer anymore or we decided to remove it from our product portfolio. We gladly help you to find the best optional product instead of this type, please contact us.