Icom MXD-5000 Multifunctional Display (discontinued)
Key features of Icom MXD-5000 Multifunctional Display
• Integrate into Icom MarineCommander system
• 12.1-inch multifunctional colour TFT display
• SVGA display resolution (800x600px)
• To display the different functions of the MarineCommander system
This product is not available.
Possible reasons that the product is not available from the manufacturer anymore or we decided to remove it from our product portfolio. We gladly help you to find the best optional product instead of this type, please contact us.
Further details of Icom MXD-5000 Multifunctional Display
Central to the system and the main user interface is the 12.1-inch MXD-5000 multifunctional display (MFD).
This is slim and IPX7 waterproof, allowing water submersion up to one-metre for 30 minutes. The colour LCD's anti-reflective coating is optimized for day and night operation, offering vivid detail even under direct sunlight. The MFD is sturdy and lightweight making it relatively straightforward to flush mount.
Each display splits into four customizable panes – organizing the radar screen, chart plotter, dual frequency modes and more. The MFD has ports for both USB drives and SD cards, allowing the MarineCommander to display chart information (C-MAP), and backup important data. Connect a compatible VHF radio and AIS unit and the marine commander system will allow DSC calls to be initiated through the main display unit.

Click to this link to see the MarineCommander wiring diagram.
Icom MXD-5000 Multifunctional Display related products
Icom IC-M423GE Mobile Marine Radio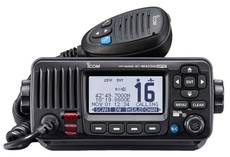 Icom MXD-5000 Multifunctional Display related discontinued products