Dometic CoolFreeze CDF 18 Mobile Compressor Cool Box and Freezer, 18L (discontinued)
Key features of Dometic CoolFreeze CDF 18 Mobile Compressor Cool Box and Freezer, 18L
• Total volume 18 l – four 1.5 l bottles
• Compact design for easy storage
• Refrigeration and deep-freeze your favourite food and drinks
• Recessed grip for convenient portability
• Integrated guide elements for easy fixation inside a vehicle with straps or safety belts
• Adjustable temperature between +10 °C and –18 °C
• Input voltage (DC) 12/24 V
• Dimensions product depth 465 mm
• Dimensions product height 414 mm
• Dimensions product width 300 mm
• Net weight 9.50 kg

This product is not available.
Possible reasons that the product is not available from the manufacturer anymore or we decided to remove it from our product portfolio. We gladly help you to find the best optional product instead of this type, please contact us.

Further details of Dometic CoolFreeze CDF 18 Mobile Compressor Cool Box and Freezer, 18L
This powerful cool box and freezer stores food and drink between +10 °C and –18 °C. Integrated guide elements allow secure fixation in the vehicle with straps or safety belts. While recessed grip and a compact design ensure convenient portability.


The lightweight compressor cooling technology and compact design of the Dometic CoolFreeze CDF 18 make cooling and deep-freezing of food and drinks easy. The recessed grip offers carrying convenience, while the integrated guide elements for straps or safety belts, ensure safe and easy fixation inside your vehicle. The improved lid, with its robust hinge and user-friendly latch design, has an even surface which can be used as a table. With its efficient cooling performance, the CDF 18 cools and deep-freezes contents with minimal power consumption, regardless of the outside temperature. Enjoy reliable cooling wherever you need it!

Dometic CoolFreeze CDF 18 Mobile Compressor Cool Box and Freezer, 18L related products
Dometic 4499000138 Euro Plug-in Power Cable 230V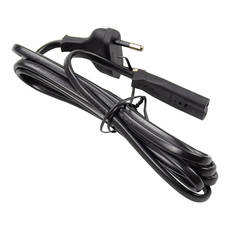 Dometic CoolFreeze CF-CBS Cool Box Stand