NightWatcher NW760W LED Robotic Security Light with WiFi & HD Camera (discontinued)
Key features of NightWatcher NW760W LED Robotic Security Light with WiFi & HD Camera
• Motorized safety reflector with built-in HD 720p camera
• 3X passive infrared sensors with a total detection zone of 210° & up to 15m distance
• Built-in 720p camera records video or images to built-in SD recorder
• View live video and receive alerts on motion detection
• Powerful yet energy saving AC 16W LED designed to deliver a bright 1250 lumens output
• Robotic head rotates left and right with total movement of 210°
• Supplied with 16GB SD card (maximum storage capacity 32GB)
• IP55 Rated
• Available in black or white
This product is not available.
Possible reasons that the product is not available from the manufacturer anymore or we decided to remove it from our product portfolio. We gladly help you to find the best optional product instead of this type, please contact us.
Further details of NightWatcher NW760W LED Robotic Security Light with WiFi & HD Camera
The NightWatcher Security Light is a proven and effective method of deterring intruders from entering your home or business. The NightWatcher is a patented motion tracking feature, built into a PIR lamp.
The NightWatcher NW765 detects motion within the 210° field of vision and up to 15 metres of the PIR and turns the lamp and camera to point directly at and follow the intruder. The built-in HD camera records 720p video or picture to the built-in SD card recorder and you can also view the video and receive push alerts to your smartphone* via the free app, whilst you are away, when motion is detected.
NightWatcher NW760W LED Robotic Security Light with WiFi & HD Camera related media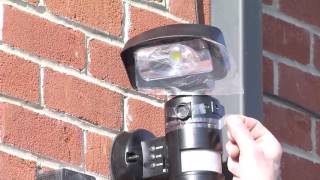 ▶