Emos FABRI-C200 Indoor TV Antenna J0687
Key features of Emos FABRI-C200 Indoor TV Antenna J0687
• For indoor use
• Frequency bands: VHF/UHF
• Frequency range: 174-230 MHz, 470-698 MHz
• Recommended installation distance from TV tower: 0-25 km (urban)
• Reception: DAB/DVB-T/T2
• External low noise amplifier with separate source
• Full HD broadcasts and multi-transmitter reception
• Horizontal and vertical polarisation
• Coaxial cable length (in package): 1.5 m
• Connector type: IEC
• Power supply: DC USB 5 V/550 mA (included)
• STB rechargeable
• Dimensions: 155 × 213 × 25 mm
Gross price (including 27% VAT): 24.76€ (Net price: 19.50€)
Add to Cart
Price Watch
You can ask for e-mail price notifications when the price of this product gets under a limit you specify. To use this feature you need to have a user account and to be signed in.

Further details of Emos FABRI-C200 Indoor TV Antenna J0687
Modern room antenna
The EMOS grey and black EM-HF10 indoor antenna is a convincing proof that an antenna can be stylish. But its modern look is by no means the only advantage of this antenna. The antenna is capable of receiving DVB-T and DVB-T2 broadcasts, which are now standard. It also allows you to enjoy your favourite programmes in full HD quality.

Watch TV without compromise
You don't have to put up with interference and the distractions of mobile operators while watching TV. The antenna boasts an external low-noise amplifier, a separate power supply and LTE and 5G filters. You can always count on perfect picture and sound.

360° reception angle
Where to place and where to point the antenna to get it working right? The answer to this question is really simple - anywhere and everywhere. Because the antenna can receive 360° with vertical and horizontal polarisation.

On the wall or on the shelf, in the apartment or caravan
The indoor antenna is designed to be placed anywhere indoors. Its practical base can be placed on top of a cupboard or on a shelf. Or simply hang it on the wall. You can use it in an apartment or house, in a caravan or motorhome. It is recommended to install the antenna at a distance of 0-25 km from the transmitter.

Universal power supply with adapter
Thanks to its universal USB adapter, the antenna can be used where there is no classic 230 V mains connection. Even on board a boat. The power supply is included in the package. The antenna can also be powered from a set-top box.
Emos FABRI-C200 Indoor TV Antenna J0687 related products
Amiko T765 Terrestrial Digital Receiver And Media Player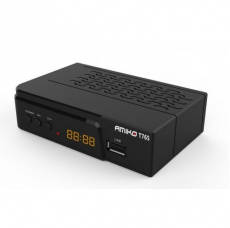 Amiko Mini Combo 3 Full HD DVB-S/S2/T2/C Set Top Box