Dometic TropiCool TCX21 portable thermoelectric cool box, 21L
Key features of Dometic TropiCool TCX21 portable thermoelectric cool box, 21L
• Convenient 12 or 24 V DC and 230 V AC cool box
• Refrigerates down to 27 °C below ambient temperature, heats up to +65 °C
• Active battery protection prevents deep discharge of the vehicle battery
• Very efficient TC special electronics with intelligent power-save circuit
• Reverse polarity protection for hassle-free electrical connections
• Priority circuit for mains operation
• Wear-resistant fan for dynamic interior ventilation
• Input voltage (AC)220-240 V
• Input voltage (DC)12/24 V
• Dimensions product depth 450 mm
• Dimensions product height 420 mm
• Dimensions product width 303 mm
• Total volume (IEC 62552-3) 21.00 l

Gross price (including 27% VAT): 230.31€ (Net price: 181.35€)
Add to Cart
Price Watch
You can ask for e-mail price notifications when the price of this product gets under a limit you specify. To use this feature you need to have a user account and to be signed in.

Further details of Dometic TropiCool TCX21 portable thermoelectric cool box, 21L
• Rated input current (AC)0.6A@AC230V A
• Rated input current (DC)3.8A@DC12V,2.1A@DC24V A
• Rated input power (AC)64 W
• Rated input power (DC)46W DC12V/50W DC24V W
• Input frequency50/60 Hz
• Noise (EN60704-1 & 60704-2-14)41.00 dB(A)

The Dometic TropiCool TCX 21 is a highly efficient, energy-saving thermoelectric cool box thanks to special electronics and an intelligent power-save circuit. Boasting many of the benefits of the popular Dometic TropiCool series such as easy portability, convenience and reliable performance. A wear-resistant fan provides dynamic interior ventilation and assist refrigeration down to 27 °C below ambient temperature, or heating to +65 °C. Along with a fresh new design, the TCX includes new safety features for electrical connections. Compact and lightweight, take this cool box wherever you go!


A fresh design, soft-touch controls and digital display – these are the hallmarks of the Dometic TropiCool TCX series. What's more, the popular high-tech cool boxes deliver a reliably high performance with features including: intelligent power save circuit, an individually adjustable temperature, cooling performance up to 27 °C below the ambient temperature and, if desired, a heating function achieves temperatures of up to +65 °C. The new TCX cool boxes prevent deep discharging when connected to a battery and feature reverse polarity protection for DC and AC connections.

Dometic TropiCool TCX21 portable thermoelectric cool box, 21L related products
Dometic 4451037619 Cigarette Lighter Connection Cable 12V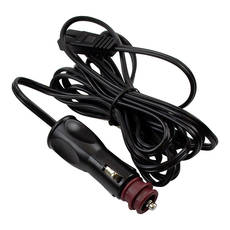 Dometic 4499000138 Euro Plug-in Power Cable 230V