Dometic HUB Inflatable Activity Shelter
Key features of Dometic HUB Inflatable Activity Shelter
• Inflatable pavilion for outdoor activities
• Material type: waterproof Weathershield™ Pro double-coated polyester fabric
• Dimensions: 2.3 m (width) x 2.3 m (height) x 2.3 m (depth) x 13.80 kg
• One-point inflation Air Frame technology allows set up in seconds
• The pavilion is supplied with a built-in base made of durable PVC that resists damage
• The picture shows the version with model number 9120001506, the price is for this version

Gross price (including 27% VAT): 732.20€ (Net price: 576.54€)
Add to Cart
Price Watch
You can ask for e-mail price notifications when the price of this product gets under a limit you specify. To use this feature you need to have a user account and to be signed in.


Further details of Dometic HUB Inflatable Activity Shelter
• THE HUB OF OUTDOOR ADVENTURE
With the Dometic HUB, the possibilities are endless. Set it up free on the beach, next to your camper, or use it as a valuable shelter when you go off-road in your SUV or SUV. Showcasing our latest innovations in design and functionality, as well as our patented awning technology, the HUB provides a reliable shelter that can be set up in minutes. Experience our most versatile awning yet and make your own way with confidence and freedom.

• MULTIPLE APPLICATIONS
Use it free-standing or zip it up with optional connecting tunnels to your station wagon, SUV or camper.

• QUICKPITCH™ TETHER SYSTEM
Sets up in seconds. Tightly tie down the bottom cord, then adjust the tension using the buckle.

• PVC SADDLE
The gazebo is supplied with a built-in base plate made of durable PVC to resist damage when used on hard or rocky ground.

• ONE-POINT INFLATION
Single point inflatable awnings can be inflated using a single external inflation valve.

• FLOOR PLAN LAYOUT
Generous dimensions provide maximum living space for camping.

• ENJOY SPONTANEITY
Enjoy spontaneity, camp and get up close and personal with nature. The HUB can be used in any environment; its unique features, durable fabrics and clever design allow you to easily move from one great outdoor location to another - ensuring you're the first to hit the trail at sunrise.
Dometic HUB Inflatable Activity Shelter related media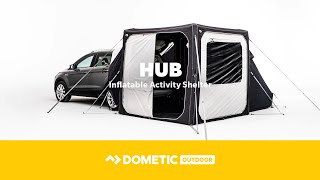 ▶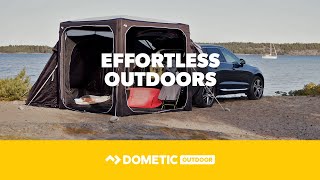 ▶
Dometic HUB Inflatable Activity Shelter related products