Alfatronix PowerVerter PV65R-S Output USB Charger (discontinued)
Key features of Alfatronix PowerVerter PV65R-S Output USB Charger
• Input voltage range: 12/24Vdc (9-32Vdc)
• Output voltage: 5Vdc (+/- 0.2V)
• Maximum current: 2,1A (double); max. 1,5A per socket
• For mobiles and tablets (Apple, Android)
• Safe alternative for on board power
• Charging unit with front panel (to mounted into seat)
• Blue LED output indication
• IP65 dust and waterproof (excludes the USB connectors)
• USB connection interface
• Dimensions (mm): 37Ø; 49 depth; 30Ø hole, 36g weight
• For railway (rugged version, vibration protection)

This product is not available.
Possible reasons that the product is not available from the manufacturer anymore or we decided to remove it from our product portfolio. We gladly help you to find the best optional product instead of this type, please contact us.

Further details of Alfatronix PowerVerter PV65R-S Output USB Charger
• The PV65R range of USB chargers offers all the performance benefits of the PVPro range with additional protection provided to the electronic circuit of the unit. A durable polyurethane compound encompasses the electronic components offering comprehensive protection against dust and liquid ingress to IP65.
This product offers a good solution where tampering might be an issue or in dirty or more challenging environments. Although the nature of the USB connector itself can always be wilfully broken or damaged and will still corrode if repeatedly exposed to liquid ingress, all electronics in these units are protected to IP65.
• The range mirrors the very successful PVPro products, offering both single and double outputs
and rear fit as well as front fitting options which allow the unit to be replaced quickly and easily
should this be required. Automatic short circuit protection is also included, so in the event of
tampering or compromise, the unit will automatically shut down, then restart once the
fault has been removed. All units can be installed on both 12Vdc or 24Vdc vehicles without
adjustment.
Units can be installed directly into bulkheads, vehicle walls, into seat fittings and underneath
seats using the mounting pod P/N USB-POD. They can also be fitted onto table tops using the horizontal surface mounting pod P/N USB-TPOD.
• The range has been designed to meet the rigorous standards required for on board
commercial vehicle applications including EN50498, ISO7637-2, EN61373 and EN50155 and is both CE and E marked (Reg10). The casings are made from V0 rated (self-extinguishing) high impact polycarbonate and the electronic assembly is predominantly by computer-controlled SMT for maximum durability.
• The PV65R range of chargers are manufactured using rugged components to provide years of service in demanding commercial environments and are covered by a three-year return to base guarantee.
Technical Data:
• Input voltage range: 9-32Vdc
• Output voltage: 5Vdc +/- 0.1V
• Output power: 2.1A (single) 3.0A (double) - max 1.5A per socket
• Application: Charges all USB devices including Apple and Android
• Transient voltage protection: Meets ISO7637-2 International standard for 12/24Vdc vehicles
• Output noise: <50mV pk-pk at continuous load.
• Off load current (quiescent current): <1,7mA
• Power Conversion Efficiency: 90%
• Operating temperature: -25ºC to +50ºC to meet this specification table
• Storage temperature: -25°C to +100°C
• Operating humidity: 95% max., non-condensing
• Casework: Black polycarbonate body
• Connections: 6.3mm push on flat blade connectors, output: USB type A single socket/double socket - tested to 10000 mating cycles
• Output indicator: Blue LED output indication
• Mounting Method: 30mm diameter hole with or without bezel. USB2 for non through fitting applications
• Safe area protection:
- Over current: Limited by current sensing circuit
- Over heat: Limited by temperature sensing circuit
- Overvoltage and undervoltage: Limited by filters and sensing circuit
- Reserve Polarity: Limited by sensing circuit
- Transients: Protected by filters and rugged component selection
- Catastrophic protection: Internal fuse
• Approvals: 2004/30/EC The general EMC directive, Regulation 10 The automotive directive , 93/68/EEC The CE marking directive, AES5, ECE R118.02 and UL 94: V-0
• Designed to: EN50498, EN61373 and ISO 7637-2
To fully meet railway approval to EN50155 & EN50121-3-2 the PVPro is to be used in conjunction with a PV6i-R or PV12i-R
• Markings: CE and E marked
• IP Rating: IP65
Alfatronix PowerVerter PV65R-S Output USB Charger related products
Alfatronix PowerVerter PV-USB-POD Mounting Pod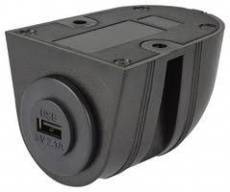 Alfatronix PowerVerter PV-USB-H1 cable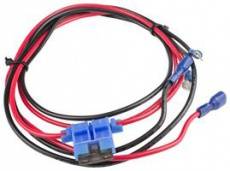 Alfatronix PowerVerter PV-USB-TPOD Double Mounting Pod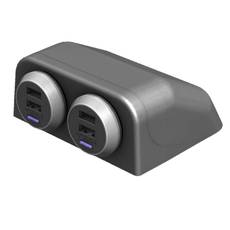 Alfatronix Dust Covers for USB Chargers