3M Peltor Optime Push to Listen Electronic Level Dependent Headset (discontinued)
Key features of 3M Peltor Optime Push to Listen Electronic Level Dependent Headset
• The 3M PELTOR Optime Push To Listen (PTL) Ear Muffs are fitted with a simple sound reproduction facility to enable better speech intelligibility when used in a noisy background
• By simply pressing a button located on the outside of the cup, the product allows you to listen to important speech conversation against a noisy background
• This feature helps facilitate the need for communication without having to remove the ear muffs from the ears
• The electronic sound reproduction function is built into one cup only.
• Simply push the button to listen, opening up the ear muffs for communication.
• Weight: 290 g
• Attenuation rating (SNR): 31dB

This product is not available.
Possible reasons that the product is not available from the manufacturer anymore or we decided to remove it from our product portfolio. We gladly help you to find the best optional product instead of this type, please contact us.


Further details of 3M Peltor Optime Push to Listen Electronic Level Dependent Headset
• The electronic function can last up to 30 seconds from time of activation, but can be de-activated at any time during the 30 second period
• Helmet mounted version and hygiene kits are available
• The helmet mounted version is approved for use with a wide range of industrial safety helmets
• The product is also available in electrically insulated band (dielectric) version without visible metal parts and in Hi-Viz green for workers who need hearing protection and to be extra visible, for example - road construction sites, airports or other high-risk workplaces
• Available in headband, helmet attachment and Hi-Viz options
The picture and the price refer to MT155H530A 380 Optime PTL type.

3M Peltor Optime Push to Listen Electronic Level Dependent Headset related media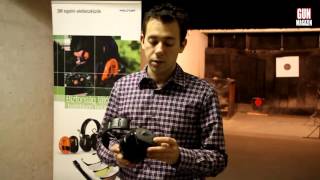 ▶