Motorola (Vertex) EVX-S24 Black UHF Digital Two-Way Handheld Radio
Key features of Motorola (Vertex) EVX-S24 Black UHF Digital Two-Way Handheld Radio
• Frequency coverage: 403-470MHz
• Analogue and digital (DMR) functions
• 8-Character numeric display
• 256 programmable channels, 16 groups
• 4 programmable option buttons
• Emergency call, lone worker, VOX function
• Built-in CTCSS, DTCS, 2-tone, 5-tone, DTMF
• Maximum 3W (digital) 2W (analogue) RF output power
• Confirms with IP67 standard (dust-tight and waterproof protection)
• Equivalent to MIL-STD 810 C, D, E, F and G requirements

Gross price (including 27% VAT): 261.06€ (Net price: 205.56€)
Add to Cart
Price Watch
You can ask for e-mail price notifications when the price of this product gets under a limit you specify. To use this feature you need to have a user account and to be signed in.

Further details of Motorola (Vertex) EVX-S24 Black UHF Digital Two-Way Handheld Radio
• Compact and Discreet
The EVX-S24 is our smallest and lightest digital radio. It is slim and easy to carry so it is ideal for hospitality, education, retail and for any market that values convenience and size

• Water Submersible and Dust Proof
The EVX-S24 meets international standard IP67 for water submersibility and is dust proof. The EVX-S24 is protected from immersion in water up to 3 feet (1 meter) for 30 minutes and offers complete protection from dust.

• Conversion Made Easy with Digital to Analogue Integration
eVerge™ radios operate in both analogue and digital modes and can be used with any existing analogue two-way radios.

• Direct Mode
Direct Mode enables you to have two communication paths on a single frequency effectively doubling your call capacity without the need of a repeater.

• Transmit Interrupt
When seconds matter, transmit interrupt allows an operator with encode capabilities to halt or "interrupt" any current transmission, in favour of a priority message. EVX-S24 is decode only, which allows messages to be interrupted.

• Better Radio Call Quality
Digital eliminates noise and static from voice transmit to only deliver the intended voice message crisply and clearly. eVerge™ digital radios feature the AMBE+2™ vocoder for enhanced voice quality.

• Better Message Control and Privacy
Control who you call and who gets your message in digital mode. Digital radios each have a unique ID enabling users to select who they need to call or send a text message without including others.

• Site Search
Move between multiple sites seamlessly by using the Site Search functionality on your EVX-S24 radio. Manually or automatically initiate Site Search to identify the signal of the closest site with the strongest signal strength. The EVX-S24 portable will dynamically change its pre-programmed home site to the site with the strongest signal in range. Great for operations with multiple locations or buildings with multiple floors.

Additional Features
• Battery Status indicator (Low Battery Alert)
• Battery Saver
• BCLO
• Time Out Timer
• Key Lock
• AF Minimum Volume
• Lone Worker Alert
• Emergency Alert
• Auto Power Off
• Escalating Alerts
• Low Power
• Whisper Mode
• Multiple Scan Options
• RSSI Indicator

Signaling Features
• CTCSS/DCS Encode/Decode
• 2-Tone, 5-Tone
• DTMF Encode/Decode
• DTMF ANI
• DTMF Paging
• DTMF Speed Dial
• Stun/Kill/Revive (5 Tone and DTMF pager)
• MDC-1200® Features: MDC-1200® ANI; MDC-1200® Call Alert; MDC-1200® Sel Call; MDC-1200® Radio Check; MDC-1200® Stun/Revive
• FleetSync® ANI (Encode Only)

Analogue Mode Features
• BTLO
• Auto Range Transponding System (ARTS™)
• Voice Inversion Encryption

Digital Mode Features
• All, Group and Private Call
• Basic and Enhanced Privacy
• Radio Check
• Radio STUN/REVIVE
• Remote Monitor (Decode)
• CALL Alert
• Text Message
• Call History
• Simplex Only and Repeater Capable Encryption
• Direct Mode
• Emergency
• Radio Enable / Disable [Decode]
• Scan (Mixed Mode - Analogue/Digital Channels)
• Transmit Interrupt (Decode Only)
• Scan (Operator Selectable On/Off)
• Site Search
Motorola (Vertex) EVX-S24 Black UHF Digital Two-Way Handheld Radio related media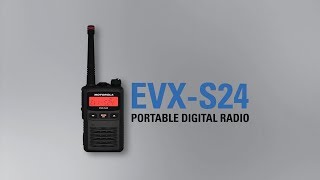 Standard Accessories of Motorola (Vertex) EVX-S24 Black UHF Digital Two-Way Handheld Radio
Motorola (Vertex) FNB-V142LI Battery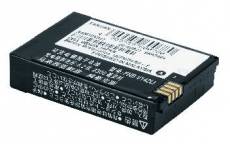 Motorola (Vertex) ATU-20DS UHF Antenna 440-470Mhz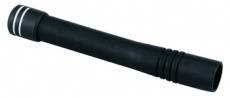 Belt Clip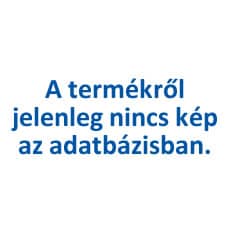 Motorola (Vertex) EVX-S24 Black UHF Digital Two-Way Handheld Radio related products