Inverto Single Monoblock 6˚ LNB Satellite Receiver Head
Key features of Inverto Single Monoblock 6˚ LNB Satellite Receiver Head
• Consists of two independent LNBs in a single housing
• Allows the user to receive signals from two different satellites in slightly different orbital positions (switching between satellites is achieved using DiSEqC signals or Toneburst (Mini DiSEqC))
• DVB-S2 (HDTV) compliant
• Impedance: 75 Ω
• Input frequency lower band: 10.7-11.7 GHz
• Input frequency upper band: 11.7-12.75 GHz
• Output frequency lower band: 950-1950 MHz
• Current consumption: max. 120 mA per port (10 VDC ~ 20 VDC)
• Output connector type: F-type (female)
• Recommended parabolic antenna size: 80 cm (F/D = 0,6)

Gross price (including 27% VAT): 15.92€ (Net price: 12.54€)
Add to Cart
Price Watch
You can ask for e-mail price notifications when the price of this product gets under a limit you specify. To use this feature you need to have a user account and to be signed in.

Further details of Inverto Single Monoblock 6˚ LNB Satellite Receiver Head
Specifically designed for the European DTH markets, this Monoblock LNB allows for dual satellite reception from orbital positions 13˚E and 19.2˚E over a single 80cm offset satellite dish antenna with F/D = 0.6 and their distribution to one satellite receiver.

• Low energy consumption
• Very high cross polarisation insulation
• Very high frequency stability
• High bandwidth LO frequency: 10.6 GHz
• Noise figure: 0.6 dB tip., 1.0 dB max.
• LO frequency accuracy at 25 °C: ±0.5 MHz max.
• LO initial accuracy: ±0.5 MHz max.
• LO phase noise: -60 dBc/Hz at 1 kHz
• LO phase noise at 10 kHz: -80 dBc/Hz
• LO phase noise at 100 kHz: -90 dBc/Hz
• Conversion gain: 58 dB ~ 68 dB
• Gain ripple (at 26 MHz bandwidth): ±0.75 dB max.
• Gain variation (over the whole band): max. 6 dBpp.
• Image reflection: 50 dB min.
• 1 dB compression point (at output): 0 dBm min.
• Cross-talk: 22 dB min.
• Control, satellite A/B/C/D selection:
• DiSEqC 1.0: B = Astra 19.2°E* Default satellite receptionPolarity info Horizontal polarization: 18 VDC
• Vertical polarization: 13 VDC
• Low band: 0 kHz
• High band: 22 ±4 kHz
• Output VSWR: 2.0 : 1 max.
• In-band noise -65 dBm max.
• Operating temperature: -30 °C ~ +60 °C
• Weight 225 g
Inverto Single Monoblock 6˚ LNB Satellite Receiver Head related products
Triax TDS 80LG RAL 7035 Parabola Antenna 80 cm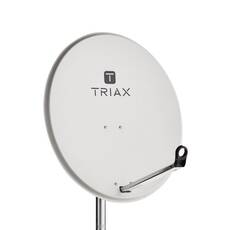 Amiko S80 Steel Satellite Antenna 80cm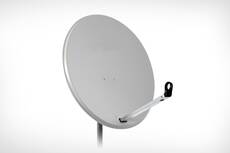 Amiko M80 Mesh Steel Satellite Antenna 80cm