Albrecht Tour Guide PMR Radio Set (Tour Guide System)
Key features of Albrecht Tour Guide PMR Radio Set (Tour Guide System)
• Tour guide system specifically designed for guiding groups of tourists
• Small and lightweight radios
• 3 different modes (continuous, VOX, PTT)
• Fully programmable
• Range up to 2 km
• Connection of external unit (e.g. mp3 player)
• Set consists of 1 ATT100 PMR446 transceiver radio and 12 ATR200 PMR446 receiver radios (+ headsets, chargers and other accessories)
Gross price (including 27% VAT): 814.77€ (Net price: 641.55€)
Add to Cart
Price Watch
You can ask for e-mail price notifications when the price of this product gets under a limit you specify. To use this feature you need to have a user account and to be signed in.

Further details of Albrecht Tour Guide PMR Radio Set (Tour Guide System)
Possible uses:
• tourist groups
• events, sport events
• driving schools, car-motorcycle races
• companies, organizations
• leisure activities, tours
• guiding system for group driving

The Tourist set:
• The kit has been specially developed to meet the needs of group drivers.
• Specially designed for tour guides.
• Light as a feather weight
• Reliable PMR446 technology (free of charge)
• Easy to handle
• Up to 6 hours of continuous transmission
• Crystal-clear sound quality in noisy environments thanks to advanced microphone technology
• Wide range of applications

ATT100 transmitter for the hiking guide:
• Very small size, can be worn on a belt or around the neck
• 10 + 10 pre-programmed speech channels (1-10 channels with low output power up to 200 m, 11-20 channels with normal output power up to 2 km range)
• Continuous transmission with low RF output power 3 hours operating time, high RF output power 6 hours operating time.
• 24 hours operation in stand-by mode
• 4 levels of low battery voltage indication
• Stereo headset jack for connecting external units (playback of pre-recorded text or music via MP3 player.)
• Headset connector: 4-pin, 3.5 mm
• 3 different modes of operation: continuous transmission, voice control (VOX), PTT (push to talk) control
• Frequency: 446 MHz (free PMR band, free of charge)
• 1200 mAh Li-ion battery
• Size: 83x52x27 mm (antenna: 78 mm)
• Weight: 150 g

ATR200 receiver for the guest
The receiver is the smallest and lightest device currently on the market, which can be easily carried with a slim neck strap. The receiver is the smallest and smallest receiver with a compact size. The THS01 hygienic headset is easy to clean and comfortable to wear.

Key features:
• Extremely small (6 cm) and light as a feather (40g)
• 10 pre-programmable channels
• Channel coding
• Low noise (no crackling or humming)
• Easy to operate (3 buttons)
• Large display
• Multifunctional LED display (operation, charging, reception)
• Key lock
• USB charger for simultaneous charging of 2 ATR100 (max. 6 hours charging time)
• Micro-USB headset (THS01) with hygienic, cleanable plastic coating and spiral cable for comfortable wearing, optional or included depending on the version
• Frequency: 446 MHz (freely programmable)
• 40 CTCSS/83 DCS, computer programmable
• 850 mAh Li-ion battery with built-in short circuit fuse
• Size: 58x37x15 mm (antenna: 24 mm)
• weight: 40 g
• Reception time: min. 10 hours / standby: 24 hours
• 4 levels of low battery voltage indication
• LED indicator (operation, charging, reception)
• Micro-USB connector for charging (new standard for mobile phones)

This kit includes the following
• 1 ATT100 transmitter with GHS01 headset for the group leader
• 12 ATR200 receivers with THS01 headset for guests
• 1 headset with headband boom microphone for the leader
• 12 listening-only headsets with earpiece for listeners
• 6 Y-ATR01 Y charger cables that can charge 2 receiver radios simultaneously
• 6 AC wall adapters CH-ATR01
• 12 neck straps for ATR100 radio
• 1 bag ATR-12 in which all this fits
Albrecht Tour Guide PMR Radio Set (Tour Guide System) related products
Albrecht ATT100 Tourist PMR Transmitter / Receiver Radio (Tour Guide)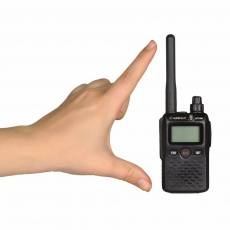 Albrecht ATR200 Duo PMR Receiver Radio Set (Tour Guide System)