3M Peltor TEP-100-EU Tactical Earplug Kit (discontinued)
Key features of 3M Peltor TEP-100-EU Tactical Earplug Kit
• Key target market: Military / Police
• Environmental microphones for Level-dependent hearing protection and situational awerness
• SNR 32dB/38dB (depends on the ear tips)
• One button operation, 2 volume steps (Low, High)
• Recharging case delivers power via micro USB or 3x AA Alkaline batteries
• Battery life: Up 16 hours of continouos use
• Battery charge time: 90 Mins (Approx) / Recharged via portable charging case
• IP 67 (water and dust resistant)
• Case size (mm): 114,2 x 78,2 x 26,9

This product is not available.
Possible reasons that the product is not available from the manufacturer anymore or we decided to remove it from our product portfolio. We gladly help you to find the best optional product instead of this type, please contact us.
Further details of 3M Peltor TEP-100-EU Tactical Earplug Kit
The 3M™ PELTOR™ Tactical Earplug helps protect your hearing and helps improve auditory environmental awareness and communications in challenging environments where intermittent loud and impulse noise may be present. Utilising state-of-the-art, sound level-dependent hearing protection technology, the TEP-100 is a compact, lightweight, and rechargeable electronic earplug.


• Rechargeable electronic earplugs help reduce loud noise while amplifying low-level sounds
• Intuitive one-button operation turns unit on and off and selects high or normal volume setting
• Lithium-Ion battery provides up to 16 hours of continuous operation between charges
• Portable charging case powered by 3 AA alkaline batteries or USB (Micro B) port
• Tactical earplugs and portable charging station (with cover and USB ports closed) are IP67 compliant and water resistant (immersion of up to 1 metre for 30 minutes)
• Innovative microphone port design helps protect eartips against water ingress
3M Peltor TEP-100-EU Tactical Earplug Kit related media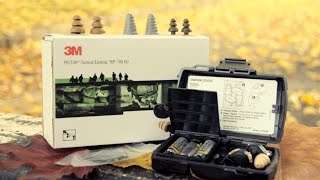 ▶